The Raymond 8210 electric pallet jack offers smooth, controlled operation and delivers increased strength and efficiency without sacrificing durability. With an intelligent and ergonomic design, the 8210 motorized pallet jack is ideal for retail store, wholesale delivery and food processing applications as well as for navigating in tight, congested areas.

• Battery: 24 volt
• Capacity: 4,500 lbs.
• Frame Width: 28 in. overall width
• Power System: AC traction control

Get the Job Done with Smarter Features
SUPERIOR MANEUVERABILITY

Our exclusive Click2Creep feature automatically reduces travel speed and allows operation with the tiller tucked tightly to the tractor – providing superior maneuverability with slower, controlled speed.

ELECTRIC BRAKE RELEASE

This feature allows release of the electric brake during low battery conditions. No need to remove covers. Truck still retains braking ability when the handle is in the brake or up position.

PREVENT UNNECESSARY WEAR

Our unique Lift and Go programmable feature trains operators to travel with forks elevated to prevent unnecessary contact and wear.
Power Up: Free Battery Offer

At Raymond, we don't design our trucks the same way as everyone else. We build them to help you run better and manage smarter. And now, for a limited time, you can get a new 8210 walkie pallet truck with a free 24V wet cell battery pack for $3,299. Looking for a different power solution? We've got you covered. Pick one of the following options and apply up to $1,100 to the manufacturer's suggested retail price.

Raymond's Universal 24V Wet Cell Battery Charger Pack
Raymond's Universal 24V Maintenance Free Battery Charger Pack
Enersys Nexsys 24V Battery Charger Pack
Raymond's 8250 Walkie Pallet Truck Powered by Lithium
Please fix the following errors and resubmit.
Offer Terms and Conditions
List Price of $4,399 minus the battery cost of $1,100 for a purchase price of $3,299. Purchase Price includes 48" x 27" Forks & Battery/Charger Pack (24V / 175 AH). Price subject to change for other truck configurations and battery pack options. Offer available at participating Sales and Service Centers only. Taxes and freight extra. Payment based on 8250 Walkie Pallet Truck and lithium power pack only (48" x 27" forks). Price subject to change for other truck configurations and battery pack options. Offer available through December 31, 2017 at participating Sales & Service Centers. Taxes and freight extra.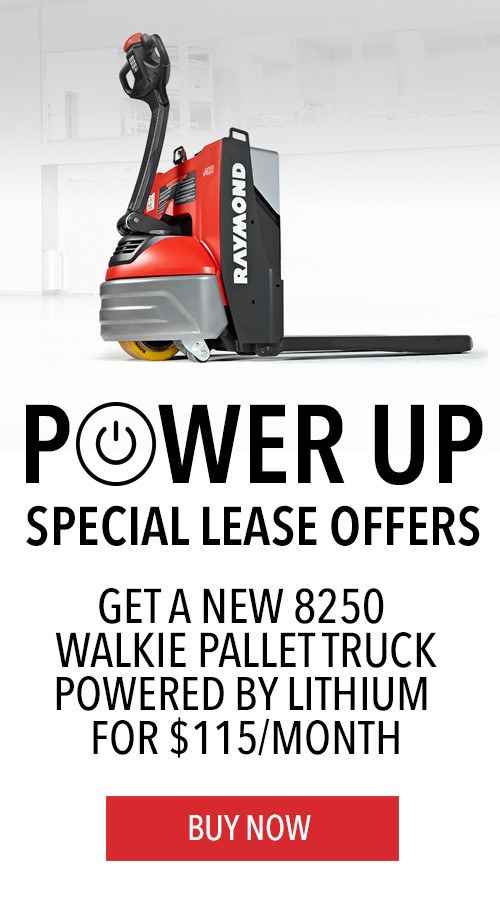 Engineered around a proven and powerful lithium-ion battery pack, the Raymond 8250 Walkie Pallet Jack is a truck and battery designed together for ultimate performance. The technology reflects Raymond's commitment to alternative energy solutions that can enhance efficiency and productivity in your demanding warehouse application.
Battery: 26V Lithium-Ion
Capacity: 5,000 lbs.