Building resiliency, preparing for future disruptions spur growth in material handling
While the threat of COVID-19 is greatly diminished, the pandemic exposed supply chain vulnerabilities that continue to challenge and change the material handling industry.
Manufacturers and distributors, in growing numbers, are focused on enhancing resiliency and preparing for future disruptions, and their next moves will have a significant impact on companies like Carolina Handling, according to President & CEO Brent Hillabrand.
"I anticipate a shift toward automation, but an even bigger shift toward data and transparency," Hillabrand said. "Supply chain professionals need insights for inventory levels, anticipated needs and productivity measurements. All of this is available to them with better digital tools and automated equipment."
A company long associated with lift trucks, Carolina Handling will continue to build its strong reputation as an integrated, automation solutions provider as customers adjust their supply chain strategies to address continuing labor shortages and consumer demand for faster shipping.
A brighter forecast
This time last year, slowing markets, continuing labor shortages and a declining Gross Domestic Product painted a gloomy picture for the global economy. But the economic landscape looks brighter this year, with an increase in GDP recorded during the last two quarters of 2022.
"GDP often is used as the most popular indicator of the nation's overall economic health," said Carolina Handling's Executive Vice President-Operations Joe Perkins. "GDP increases during the third and fourth quarters of 2022 show positive movement in the economy."
Another positive sign is a continuing increase in consumer spending after a drop in 2020. Despite price increases due to inflation, consumers have access to cash and they're spending it. Even better news is that consumer savings rose to 4.7 percent in early 2023, its highest level in more than a year.
As Chinese manufacturing facilities reopen and U.S. industrial production continues to rise, raw material shortages are leveling out. But labor shortages are lingering.
"Our customers continue to have trouble filling open positions," Perkins said.
Slowing birth rates and Baby Boomers not returning to the workforce after COVID are two primary reasons for the smaller pool of available workers. The increase in available jobs is another.
Available jobs in government and hospitality have declined, but most other industries have more jobs today than two years ago. For example, the transportation and warehousing sector gained 691,900 jobs over the period. Presently in the U.S., there are .5 persons for every job opening.
Strengthening the supply chain
Despite rises in interest rates and prices for consumer goods, there are positive signs for the material handling industry, said Carolina Handling Executive Vice President-Sales Mike Gainor. For example, the increasing availability of goods and strong consumer buying power have created the need for a stronger supply chain ecosystem between vendors and suppliers.
"There are more materials to move and a need to increase the throughput of those materials," Gainor said. "And with a lingering labor shortage, supply chain leaders are turning to automation as the answer."
Gainor pointed to the recent ProMat show in Chicago as proof. The largest supply chain and material handling trade show in the world, ProMat 2023 welcomed 50,000 attendees to McCormick Place Convention Center March 20-23. Of those in attendance:
82 percent said they were there to look at forklifts

70 percent were there to look at conveyors and sortation equipment

82 percent said they attended to look at robotics and automation
In 2022, sales of material handling equipment totaled $140 billion and are estimated to reach $320 billion by 2032. The automated material handling market is predicted to be $69 billion by 2030, growing at about 9 percent each year.
Private warehouse construction is also expected to rise through 2023, taking a slight dip nationwide in 2024, then rebounding in 2025.
It's important to note that industry forecasts are a look at what is happening nationwide, with market conditions in the Southeast often outperforming other parts of the country, Gainor said.
"We have a few things going for us in the Southeast, including good infrastructure, ports along our coastlines, available land and a strong workforce," he said. "What others may see in the Northeast or out West may be different than what we see here locally."
Carolina Handling's diversified customer base also is a strength, according to Gainor.
"It's important to keep in mind that we service so many different verticals. Companies that may see a drop-off at the beginning of a slowdown will be propped up by those that may not see it until the end," he said.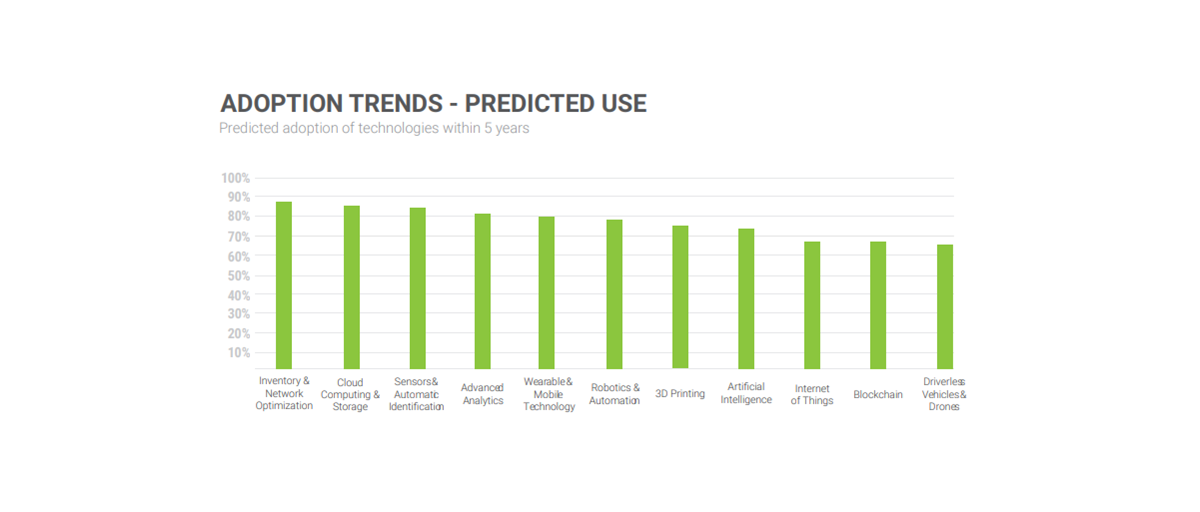 A recent trade association report shows the types of equipment and technology to be adopted over the next five years. They are:
Robotics and automation: 78% adoption

Driverless vehicles: 65% adoption

Inventory and network optimization: 88% adoption

Sensors and automatic ID: 83% adoption

Advanced + predictive analytics: 81% adoption

Internet of Things: 68% adoption
These adoption trends fall in line with overcoming the top challenges in today's supply chain, including:
Using automation to get products to consumers faster

Using inventory and network optimization to remove stocking gaps

Using data and technology to provide transparency up and down the supply chain
But at the end of the day, the number-one barrier to adoption for all these items is the lack of a clear business case, Perkins said.
"Carolina Handling will continue to position itself as an intralogistics solutions partner and consultant, looking for opportunities to help customers eliminate waste, improve processes and use automation to address labor shortages," he said.