Carolina Handling supporting second chances, workforce development in Central and Eastern North Carolina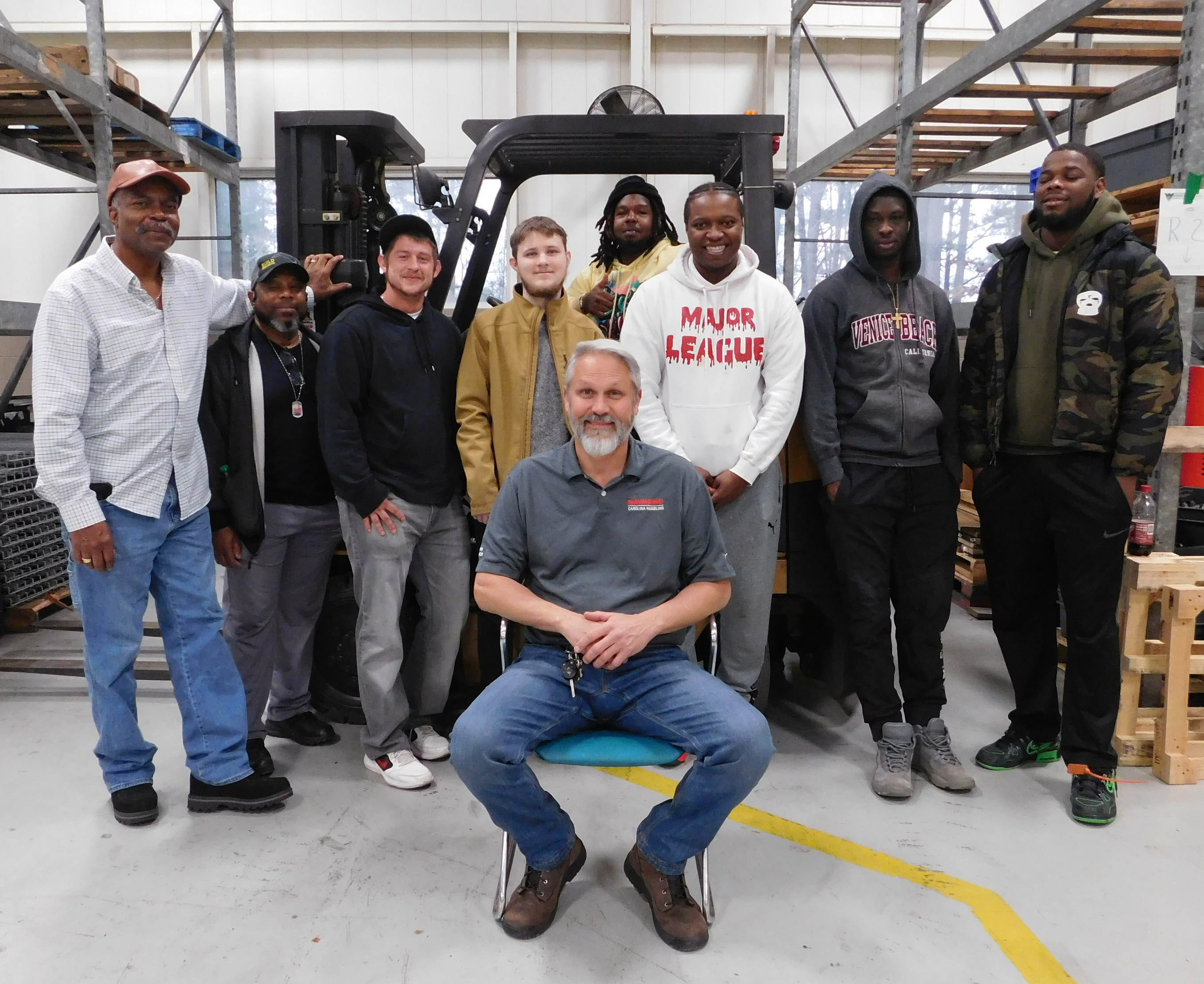 Carolina Handling Field Service Trainer Andy Duncan poses with students from the Building Bridges program at Central Carolina Community College.
When Greg Singleton joined the faculty at Central Carolina Community College, the Sanford, North Carolina-based school serving Chatham, Lee and Harnett counties had one forklift to which someone had attached a sign that read, "Do not service."
Now, one year and four months later, dozens of participants have completed Singleton's seven-day Building Bridges program, a job readiness boot camp that offers soft skills instruction alongside forklift training and OSHA-10 certification to make graduates job ready in a short time. Presented in partnership with the Food Bank of Central and Eastern North Carolina, the free program for the unemployed, underemployed and those with a criminal record also includes a food box and a $200 allowance.
But before CCCC could launch Building Bridges, functioning equipment was essential. So, Singleton, CCCC's Dean of Programs, Workforce Development and Continuing Education, went "old school."
"I picked up the directory and started cold calling places that sell or service forklifts. I called a number of them," he recalled.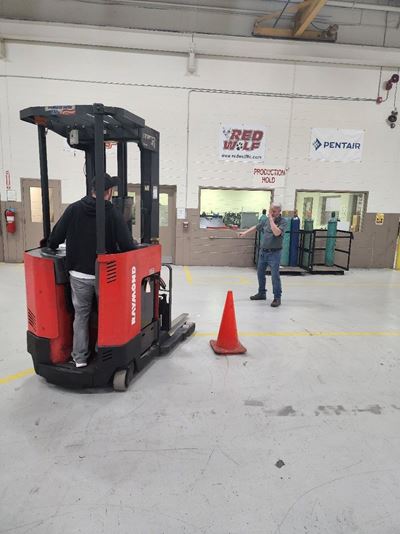 That phone call was the start of a growing relationship between Central Carolina Community College and Carolina Handling.

"There was nothing in place at CCCC related to forklifts," Singleton said. "There was that one forklift with a sign that said, 'Do not service.' They had given up on it, but (Field Service Team Leader) Quinn (Lentz) came over and resuscitated it and didn't charge us anything. I knew then that Carolina Handling really cares."

Building Bridges was on its way with the revived forklift, but more equipment and an instructor were needed. Carolina Handling Field Service Trainer Andy Duncan stepped in to teach forklift certification training until a permanent instructor could be found. Carolina Handling then gave the program a real boost with the donation of three lift trucks – a Raymond sit-down, four-wheel forklift, a Raymond standup counterbalance forklift and a Raymond orderpicker – to give students well-rounded training on a variety of equipment used in manufacturing and distribution center environments.

"This equipment was the deciding factor as to whether we could even stand this program up in Chatham County. It was the absolute deciding factor," said Singleton, who created Building Bridges while on staff at Craven Community College in New Bern, North Carolina. "This program would not have happened in Chatham County but for that donation."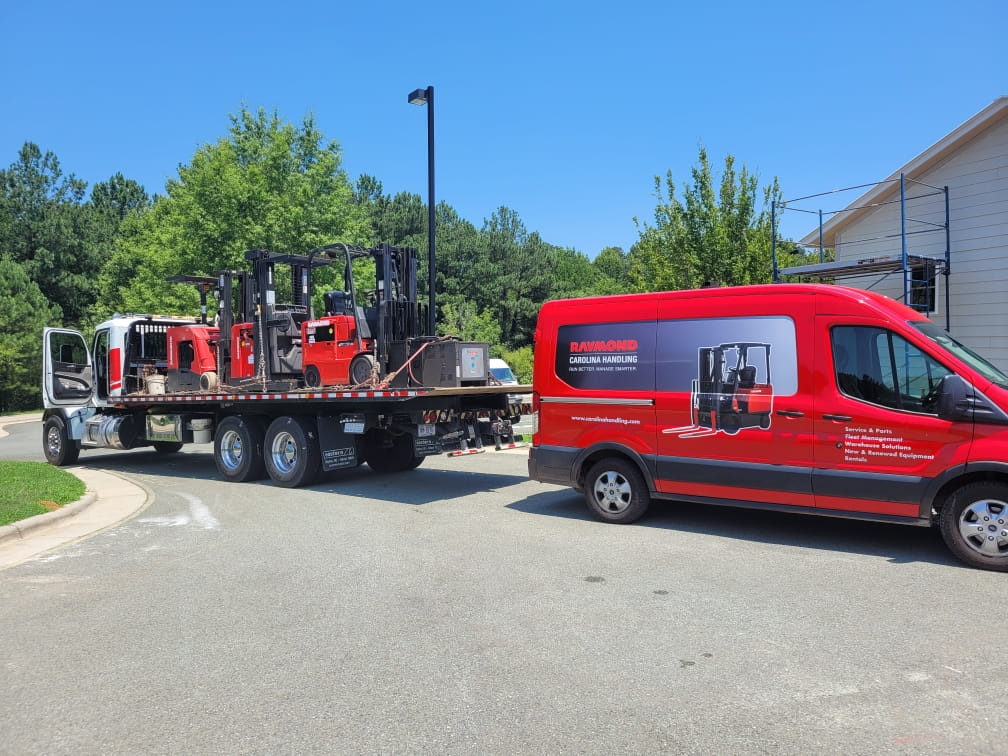 Success breeds success, they say, with another forklift recently donated by the former owners of the Chatham News and Record. Equally important to Building Bridges are the 12 companies that come in on the last day of soft skills training for mock interviews, Singleton said.

Of the 75 participants completing Building Bridges to date, 85 percent have landed jobs or job interviews upon completion of the course at companies such as Wolfspeed, Vinfast, 3M and the Food Bank of Central and Eastern North Carolina.

"We're talking about students in deep poverty – not just what they don't have but also the way they think," said Singleton, who knows first-hand the hurdles faced by many who are trying to enter, or reenter, the workforce.

In 1996, at the age of 29, Singleton started his life over after being released from prison as a first-time, non-violent offender. His own experience drives his passion to reduce recidivism and rebuild lives through Building Bridges.

"Morale is built upon being successful, so I need these students to get a success to build toward more success. Many of our graduates gain motivation to take more robust classes, or they go on to employment."

For Carolina Handling, the contribution of time and equipment not only supports education and workforce training in the local community, but it also introduces participants to the company and career opportunities in material handling.

"We're competing for talent like many other companies across the Southeast," said James Sanders, Director of Operations for Carolina Handling's North Division. "We welcome opportunities to encourage careers in the material handling industry and to help develop prospective candidates. Building Bridges is a great ministry with a very passionate leader. I see this program making a difference in our community."

For Singleton, Building Bridges is as much about economic development as it is offering second chances. That's why he designed it to vet participants in three areas:
Is the student punctual and on time for class?
Does the student participate during class? Some individuals are mandated to attend class via a probation officer, so they come begrudgingly, Singleton said.
Do they complete the course? Many people with an impoverished state of mind start something but they never finish.
"These three things help us reduce the risk factor in hiring," Singleton said. That's why the soft skills boot camp was put into place alongside the forklift and OSHA training. We need to make sure we are hiring the right person so that we're not compromising our companies. That could impact economic development and everything else."