Finding A Purpose-Driven Career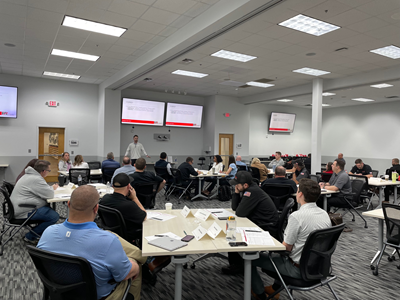 Transitioning into a new job can be difficult, especially when it's military to civilian. That's why Carolina Handling has partnered with The RECON Network, an organization that provides purpose-based training, tools and resources for veterans in career transition.
"We're extremely proud that 13 percent of our associates served in the U.S. Armed Forces," said Carolina Handling President & CEO Brent Hillabrand. "Involvement with organizations like The RECON Network helps us to raise awareness about career opportunities at Carolina Handling that offer a meaningful military-to-civilian transition."

Transition isn't just about finding a job. It's also about finding purpose, according to Jordana Megonigal, CEO of The RECON Network and a veteran transition advocate.

"It's been proven that living with purpose can affect happiness, wellness, health and career success," Megonigal says. "That's why The RECON Network exists—to provide purpose-focused career planning and community incorporation to veterans and their spouses, helping them lead fulfilling lives and careers."

The military has well-defined roles within a hierarchy where honor, mission and camaraderie are watchwords. These elements can be harder to define in civilian life, making purpose-driven employment harder to find for military veterans.

Approximately 200,000 service members transition out of the military every year, according to the U.S. Department of Veterans Affairs. A Pew research study found that 27 percent of them report a difficult reentry.

Recognizing that difficulty, The RECON Network recently kicked off The Cohort to provide additional coaching and career planning assistance. The eight-week program gives participants a holistic view of the next phase of their lives. It includes a weekly peer check-in to create accountability and to help build a support network.

Carolina Handling Manager of Learning & Development Liz Hunter welcomed program members during The Cohort kickoff, telling her own career transition story of schoolteacher turned corporate recruiter.

"I was an elementary school teacher for 11 years prior to coming to Carolina Handling," Hunter explained. "That's not the natural job progression to go from teaching eight-year-olds to working for a material handling company. This is not at all where I thought my life would go. After 11 years in the classroom, I knew I needed to make a move, but I didn't know what that move was going to be."

After a lot of soul searching and a thoughtful examination of what she enjoyed, what she was good at and what she found fulfilling, Hunter entered the world of corporate recruiting.

"It boiled down to wanting to help people and to make a difference in their lives," she said. "I interviewed a lot of individuals during my time as a recruiter, not only trying to figure out who would be a good fit for our company but whether the job would truly be a good fit for them."

In her fifth year as a recruiter, Hunter began the search to hire Carolina Handling's first Manager of Leadership & Development.

"Ironically enough, I was recruiting for the role that I'm in now," she recalled. "The more I talked about it, the more I wanted the job myself."

With responsibility for onboarding, technical training and leadership development, Hunter says her career has now come full circle.

"I'm back to teaching. I'm back to facilitating. I'm back to writing lesson plans. My students are just a little bit bigger," she said. "It's nice to be part of a company that has allowed me to come full circle."

One of the Southeast's leading material handling solution providers and the exclusive Raymond Solutions and Support Center for North Carolina, South Carolina, Georgia, Alabama and Florida's Central time zone territory, Carolina Handling has more than 700 associates. In March, 131 of them graduated from Carolina Handling's Leading Individuals for Tomorrow (LIFT) leadership development program.

LIFT allows Carolina Handling to be proactive in its leadership development efforts, helping to identify future leaders and to be intentional and focused on the culture of the company.

"We want to be an associate-led organization and an organization that grows and develops our people," Hunter said.

To view all open positions at Carolina Handling, go HERE.
Apply Today!