Raising industry awareness, supporting those who served at BMW Charity Pro-Am
Carolina Handling honored active-duty military, veterans and first responders during the recent BMW Charity Pro-Am as the sponsor of the tournament's Military & First Responders Skybox.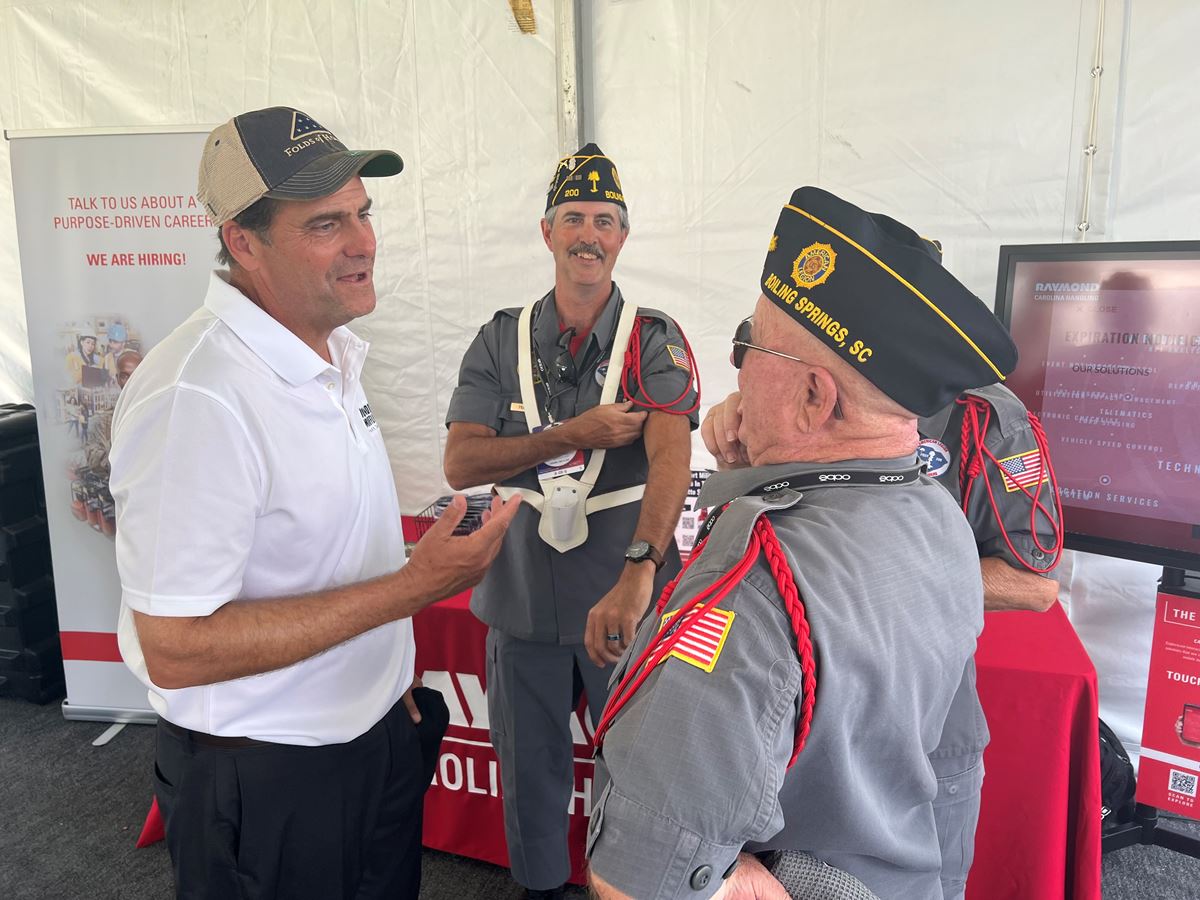 Located at the 18th green at Thornblade Club in Greenville, South Carolina, the skybox is a premier hospitality area for past and present U.S. service members, law enforcement, firefighters and EMTs attending the annual Korn Ferry tournament where amateurs and celebrities are grouped with tour professionals in a better-ball competition.
Carolina Handling's partnership with the BMW Charity Pro-Am gives those who serve the country and our communities the opportunity to enjoy one of the Upstate's leading events and provides funds to two leading veteran organizations in the Upstate region of South Carolina. It also is a forum for generating awareness about jobs in the material handling industry and interest in career opportunities at Carolina Handling.
Supporting those who served
Carolina Handling's involvement with the BMW Charity Pro-Am helps support the work of the Palmetto State Chapter of Folds of Honor and Upstate Warrior Solution, two nonprofit organizations that help connect veterans and their families to resources in the community.
According to a 2022 economic impact study by the S.C. Department of Veterans Affairs, the Upstate region of South Carolina is home to nearly 95,000 military veterans and almost 4,000 active service members. The Upstate has the third-largest military presence in South Carolina, supporting 25,520 jobs and $3 billion in economic impact.
Since 2013, Upstate Warrior Solution has assisted almost 9,000 U.S. service members and their families with housing, employment, healthcare, educational opportunities and family support.
Folds of Honor provides educational scholarships to the spouses and children of military members who have fallen or been disabled while serving in the U.S. Armed Forces. Scholarships support private school tuition or tutoring in grades K–12, tuition for college, technical or trade school and post-graduate work, including a master's degree, doctorate or professional program. Funds for a second bachelor's degree or trade/technical program certification are also available.
Raising awareness about jobs in material handling
"Careers at Carolina Handling offer a purpose-driven, military-to-civilian transition," said Carolina Handling President & CEO Brent Hillabrand. "The skills developed while serving in the U.S. Armed Forces can make you highly successful in the material handling industry. We're extremely proud that 13 percent of Carolina Handling associates served or are serving in the U.S. Armed Forces."
Since its founding in 1966, Carolina Handling has focused on supporting, developing and empowering its associates to lead across the organization and to provide customers with expert knowledge to optimize their operations. With a mission of service and caring for each other, its customers and the community, Carolina Handling is a place where many associates have found meaningful work after their military careers.
As the exclusive Raymond Solutions and Support Center for the Carolinas, Georgia, Alabama and Florida's Central Time Zone territory, Carolina Handling has grown its product offerings beyond lift trucks to become a total intralogistics solutions provider. Equipment and services include a broad range of consulting, connected technologies, material handling equipment and field service to support the growing and changing needs of warehouses and distribution centers. With record-breaking growth over the past few years, Carolina Handling has immediate openings for field service technicians, systems engineers, project coordinators, shipping and receiving associates, fleet asset coordinators and more.
For more information on available jobs at Carolina Handling, visit the Careers page of this website.