VLMs: A space utilization solution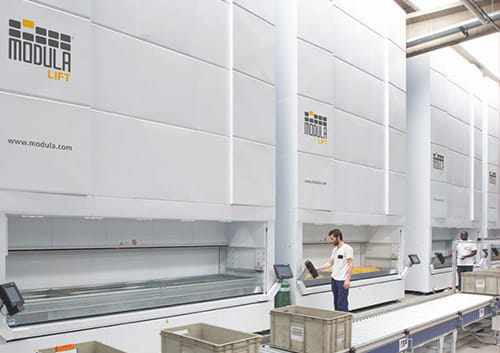 Over-ordering during the pandemic and post-pandemic stockpiling to lessen supply chain challenges have created crucial needs for better space utilization within warehouses and distribution centers. Additional pressure from an ongoing labor shortage is taking conversations about automated solutions to a new level.

An urgent need to maximize space is sparking new interest in automated storage and retrieval systems that many companies once assumed too costly to explore. As the price to purchase and rent warehouse space continues to escalate, companies large and small are exploring the benefits of vertical lift modules (VLMs).

The warehouse automation market is predicted to reach $69 billion by 2025 as the need to move more goods with less resources accelerates. For example, the need for better space utilization has opened the door for high-density storage solutions such as Modula, a vertical storage and retrieval system that houses and delivers parts to a stationary operator. Its use reduces the need for shelving and creates time efficiency when picking pieces or small components.

Carolina Handling, one of the Southeast's leading intralogistics solutions providers, broadened its technology portfolio in 2021 when it became an authorized dealer for Modula Inc., the Ohio-based manufacturer of VLMs and horizontal carousels. The exclusive Southeastern dealer of Raymond forklifts, reach trucks, order pickers and pallet jacks in the Carolinas, Alabama, Georgia and the panhandle of Florida, Carolina Handling has formed an Intralogistics Solutions Group to help customers identify and implement automated technologies for optimizing their operations.

VLMs are filling the bill for customers needing new solutions to support the global shift toward e-commerce-driven distribution models. A fully automated vertical storage and retrieval system, VLMs offer real-time inventory management and better pick accuracy.

This nontraditional warehouse solution offers three bottom-line benefits that are ideal for industries such as automotive, electronics, food and beverage, pharmaceuticals and small parts distributors. They are:
Maximized space utilization
Increased pick accuracy and security
Enhanced worker safety and job satisfaction
Maximized space utilization

Building up, not out, VLMs utilize the available ceiling height, compressing as much as 9,050 square feet of traditional shelving into a compact storage system with a footprint of 150 square feet. For example, Modula VLM heights go from 10.1 feet to 52.1 feet, keeping components in sturdy storage trays with a tray payload capacity of up to 2,200 pounds, depending on the VLM model.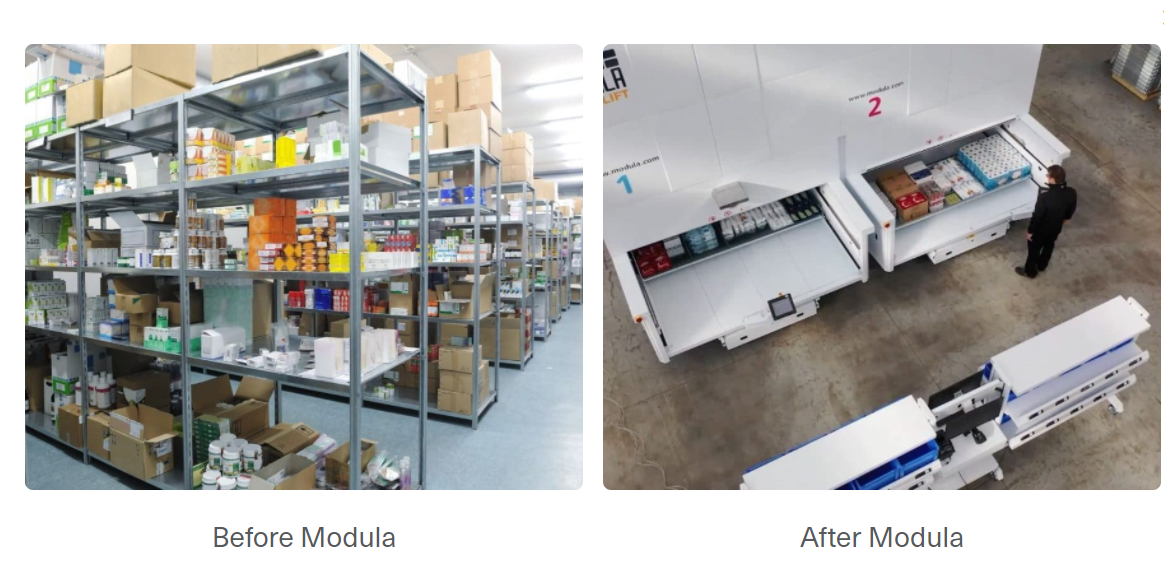 Additionally, the vertical automated storage and retrieval system is an effective alternative for facilities where ceilings are not high enough for full vertical height utilization of swing reaches or order pickers, some of which reach up to 59 feet.

Increased pick accuracy and security

According to 2020 estimates, the average mispick costs a company as much as $100. While new technology in recent years has helped warehouses and 3PLs to drastically cut the number of mispicks, the average annual number remains around 7,500, according to The Mis-Pick Effect: Threats Persist in 2021 by Jake Rhuede.

VLMs reduce handling errors, improve inventory management and help eliminate product damage or loss. The system delivers selected items to a stationary operator, saving the time that workers spend walking warehouse aisles in search of items and often climbing ladders to retrieve. And because items are stored in a fully enclosed module, products are not exposed to dust and damage.

Enhanced worker safety and job satisfaction

It is a common misconception that automation replaces human workers. Rather, automation helps reduce workloads related to manual and repetitive tasks and frees up employees to focus on more innovative, rewarding responsibilities.

In fact, a recent survey by Salesforce, a San Francisco, CA-based customer relationship management software company, found that 89 percent of full-time workers are more satisfied with their job because of automation, and 91 percent say that automation saves them time and offers a better work-life balance.

Advanced storage and retrieval systems such as Modula have been designed using ergonomic principles to significantly reduce the strain and stress of manual material handling. Items are delivered to an operator at a comfortable height, eliminating the time and energy spent searching, walking, reaching and bending to pick components.

For more information, go HERE to download our whitepaper entitled: Vertical Lift Modules: Three Bottom-Line Benefits of a Nontraditional Warehouse Solution.