Providing MedShare With Equipment To Save Lives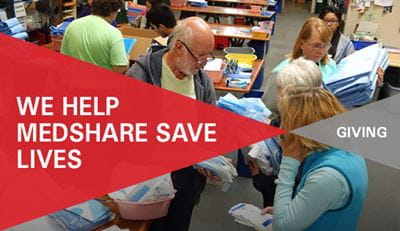 MedShare is a nonprofit organization dedicated to improving healthcare through the recovery and redistribution of surplus medical supplies.

Carolina Handling is proud to partner with MedShare by providing necessary warehouse equipment to continue their important work.
About MedShare
According to Healthcare Without Harm, U.S. hospitals generate more than two million tons of medical waste each year. Much of that waste is unused medical supplies and equipment. Meanwhile, the World Health Organization estimates that more than 10 million children under the age of five die in the developing world due to inadequate medical care.

What Can Be Done
MedShare is a nonprofit organization dedicated to improving healthcare and the environment through the efficient recovery and redistribution of the surplus of medical supplies and equipment to those most in need. MedShare collects surplus medical supplies and equipment from hospitals, distributors and manufacturers, and then redistributes it to qualified healthcare facilities in the developing world. They also outfit medical missions and safety net clinics in both the U.S. and abroad.

Lending A Helping Hand
Carolina Handling has supplied MedShare with warehouse equipment to aid them in their effort to distribute unused medical supplies to those in need. Our equipment donations have saved MedShare several thousand dollars, and have allowed them to get lifesaving medical supplies in and out the doors of their two distribution centers.
Most recently, we donated a lift truck to help MedShare get their life-saving supplies out of the warehouse and on the way to those in need. Carolina Handling has pledged our support of their operation for as MedShare continues to serve those communities and people who would otherwise go without proper medical care.
You May Also Like: