A Guide to ​Best Practices for Loading Dock Safety
A lot of business happens on your loading dock. And with all the materials, machines, and people moving around, it can also be a place where accidents happen, too.

Promote safety in your facility by reviewing this guide to best practices.
Identify common hazards
While every facility is different, these safety hazards can often be found in and around loading docks:
Improperly restrained or unrestrained trucks
Trailer separation
Unsecured loads
Unguarded machinery and dock hedges
Water spills, wet loads, and rain that increase chances of slips
Trip hazards, like empty pallets and debris
Poor visibility
Falling objects that can hit employees
Follow loading dock safety best practices
There are OSHA regulations regarding materials handling. But there aren't specific guidelines around loading dock safety. We recommend following these general precautions and safety measures:
Restrain the trailer.

Reduce the possibility of drive-away and trailer creep. Choose a simple solution like wheel chocks (add handles or flags for extra visibility), or opt for a more high-tech option like fully automatic trailer restraints.



Light trucks, forklifts, and doors.

Make sure forklift lights and the trailer's interior lights work, to help workers see well. Dock door lights improve visibility and help workers load and unload materials safely, too.



Use dock levelers or plates.

Dock levelers and dock plates bridge the gap between the trailer and the loading dock. Levelers adjust to keep the surfaces level as the trailer height changes during the loading/unloading process.



Install safety barriers and guards.

Dock barricades or guardrails help protect people from falling off dock edges. Label and install guards on sprockets, gears, rollers, and other pinch points to minimize chances of injury.



Keep it clean and dry.

Pick up trash, plastic wrapping, and other debris to minimize trip hazards. Use dock seals and canopies to prevent rain and snow from entering your facility and creating slip hazards. If spills occur, clean them up right away. High-volume, low-speed fans also help keep things dry.



Monitor and control access.

Keep dock doors closed and locked when not in use. Try tools like video surveillance, sign-in sheets requiring photo ID, and secure waiting areas for drivers to keep your employees safe, and help prevent theft and vandalism.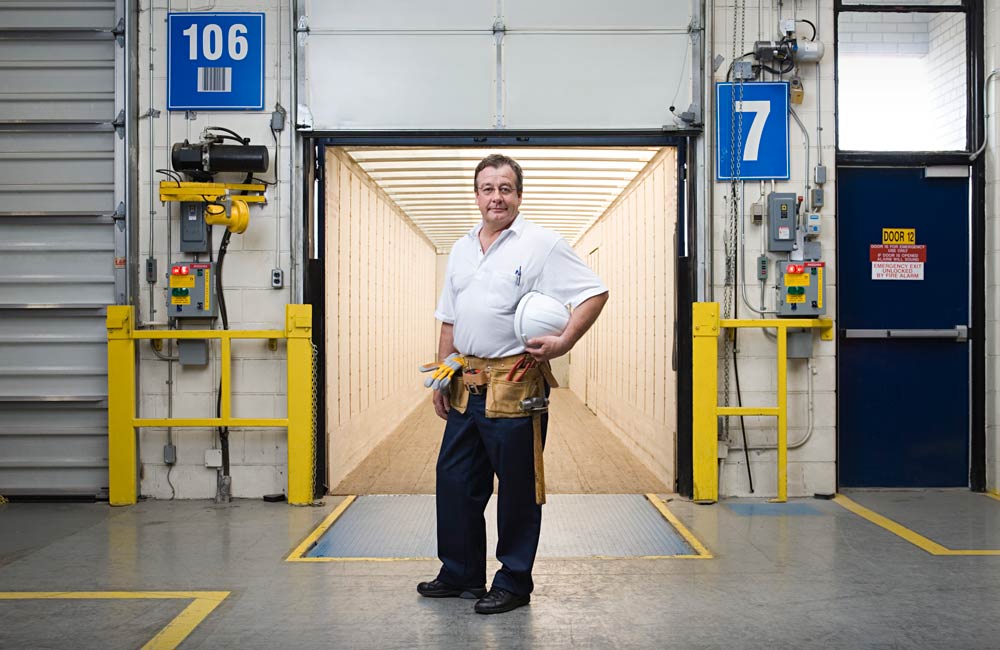 Make training a priority
Even with best practices in place, employees may not always follow them. The most effective way to help safety knowledge sink in is through training.
Carolina Handling offers a variety of training programs to help you create a safe and productive loading dock environment. Our training includes programs for operators (led by Raymond-certified instructors), pedestrians, supervisors, and technicians. Many of our programs are OSHA compliant.
Interested in learning more about our training? Contact a Carolina Handling Associate today.