Carolina Handling Rises to #37 on Grant Thornton's NC100 List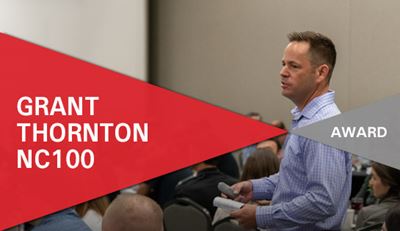 We're proud to have made the Grant Thornton North Carolina 100® (NC100) list, which honors top private companies in North Carolina.

We've climbed the charts once again—rising four spots from last year to number #37.
Hard Work and Dedication
Carolina Handling has been named to the 2018 Grant Thornton North Carolina 100® (NC100) which ranks the state's largest private companies by revenue. The complete list was released in the October issue of Business North Carolina and can be viewed on the Grant Thornton website.
"It's extremely gratifying to make the NC100 again this year," said Brent Hillabrand, President of Carolina Handling. "Our innovative Associates deserve all the credit. It's their hard work and dedication that allow us to be so successful in providing industry-leading warehouse solutions all across the Southeast."
Carolina Handling rose to 37th on the list, four spots higher compared to the previous year.
About Carolina Handling
Carolina Handling is the Southeast's market leader in developing and implementing material handling solutions. As a Raymond Authorized Solutions and Support Center (the industry's only 100% integrated network of material handling solutions experts), we offer customers the flexibility to grow or move locations nationwide while maintaining our same high levels of service and support. With over five decades of proven success increasing supply chain efficiency, a partnership with Carolina Handling provides real, measurable value.
About Grant Thornton North Carolina 100
Since 1984, the Grant Thornton North Carolina 100 has ranked the state's largest private companies by revenue in the most recent fiscal year, based on data provided by the participants. The NC100 is a voluntary list restricted to companies based in North Carolina that do not have publicly traded stock. Companies owned by private equity are permitted. Nonprofits, financial-services companies, health care providers such as hospitals and subsidiaries of corporations are excluded.
About Grant Thornton LLP
Founded in Chicago in 1924, Grant Thornton LLP (Grant Thornton) is the U.S. member firm of Grant Thornton International Ltd, one of the world's leading organizations of independent audit, tax and advisory firms. Grant Thornton, which has revenues in excess of $1.7 billion and operates 59 offices, works with a broad range of dynamic publicly and privately held companies, government agencies, financial institutions, and civic and religious organizations.