Forklift Safety Best Practices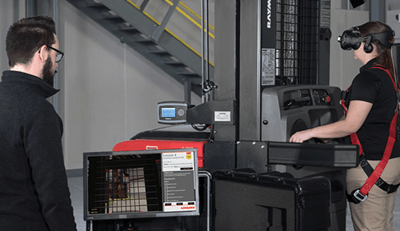 According to Occupational Safety and Health Administration (OSHA) nearly 62,000 forklift accidents occur annually with a little over half resulting in serious injuries. Keeping in mind a forklift weighs triple that of a car, the potential danger of these machines should not be underestimated.
While these numbers may cause us all to sit up in our seats, there is one more statistic especially worth noting: OSHA estimates nearly 70% of accidents could be avoided by proper training and policy enforcement.
This means facilities across the country have a massive opportunity afforded to them. Since today is National Forklift Safety Day, we thought now would be a perfect time to share six forklift safety best practices we use in our facilities that you can implement in your warehouse today.
Know Your Loads
The most frequent cause of accidents cited by OSHA is forklifts tipping over. Generally, counterbalanced forklifts have a three-point suspension system—those points being the two front wheels and the center of the steer axle. A load can be safely carried when the forklift's center of gravity falls within this triangle's perimeter. This is why it is essential for operators to know exactly what comprises their loads.
Know Your Machine
There are several customizable elements of forklifts you may not be aware of that can be utilized to increase safety in your specific facility. For instance, if you have a smaller facility and your truck does not have to travel great distances, you can decrease the maximum speed on your lift truck to increase safety for pedestrians. In dark areas, travel lights on a truck can also be set to direct forward when moving in that direction and switch to backward when your truck is in reverse. The addition of LED Blue Lights to a lift truck can raise awareness of the machine's location to further increase safety for surrounding pedestrians.
Service & Maintenance
By making regular inspections routine, you can ensure your lift trucks are operating at optimal capacities and mitigate unnecessary dangers caused by everyday wear and tear. For instance, be sure your tires are not well worn. Are your brakes operating properly? Check your forks for any cracks and chips. By regularly making these inspections, you drastically decrease the potential for your machine to fail on an operator and cause a safety hazard.
Advancing Technology
Staying up-to-date on tech advances in the material handling field opens your facility to new approaches to optimize your safety plan. For instance, let's look at training—the number one cause of accident is operator error. Virtual training in forklift simulators offers operators the opportunity to practice safe techniques without any risks to themselves or those surrounding.
Tracking data can further increase safety in your facility. Forklift telematics use sensors and wireless transmission to measure analytics and provide data on operator's performance and actions. This allows for increased accountability and lays the groundwork for specific actions plans for operator professional growth and improvement.
Communication Is Key
Transparency and ensuring an entire operation is on the same page are two essential components of a safety strategy. When an accident occurs it is important to make an honest assessment and look at why the incident occurred and ways this could have been avoided. From there, spreading that information throughout your operation can prevent reoccurrences of these incidents in the future.
Celebrate Success
This is our final best practice and one of the most important. A safety culture is never ending. When you have buy-in from all operators, this fosters a communal effort of continual improvement. Recognize and promote new safety steps taken in your facilities that have proven successful. Collaboration breeds innovation. Every day provide opportunities for growth and improvement, and every day there are no safety incidents is a day worth celebrating.
Interested in Safety Training? Click here to learn more.