Carolina Handling Enters SC Truck Convoy For Special Olympics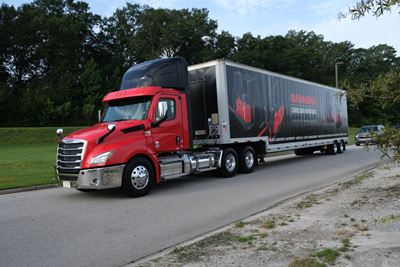 Carolina Handling, the Southeast's market leader in developing and implementing material handling solutions, today announced that it will support the upcoming South Carolina Truck Convoy® for Special Olympics, August 28 in Columbia, South Carolina, by sponsoring the entry of 10 Carolina Handling semi-trucks.
The Truck Convoy is a national celebration of the trucking industry to raise awareness and funds for Special Olympics athletes and help change attitudes toward people with intellectual disabilities.
"It is an honor to be a Guardian level sponsor of the event as part of our Appreciation, Care and Teamwork (A.C.T.) initiatives," said Brent Hillabrand, President and CEO of the Charlotte-based company.
"Many of our Carolina Handling associates and their families have chosen to be involved in this unique program to celebrate the achievements of the athletes. Our associates, at each of our centers, are excited to take part in the event by making contributions in the hope that Carolina Handling will earn the honor of being the lead truck in the convoy."
The company operates its equipment distribution center in Piedmont, S.C., in addition to centers in Greenville, S.C.; Greensboro, Raleigh and Charlotte, N.C.; Atlanta, and Birmingham.
A team of 10 Carolina Handling Transportation Specialists will participate in the convoy with additional associates and their families supporting the program.
The convoy will assemble at the South Carolina State Farmers Market in West Columbia, S.C., and be escorted on a route on I-77 in Columbia before returning to the site for a celebration with Special Olympics athletes, families, friends, law enforcement officials and organizations and companies that make up the trucking industry.
"We are pleased to join industry leaders in supporting the Special Olympics and hope that our
commitment will encourage others to join with us in supporting the Olympians and their families."
For additional information about the Truck Convoy for the South Carolina Special Olympics, visit here.