K.Hartwall Partnership Expands Carolina Handling Offerings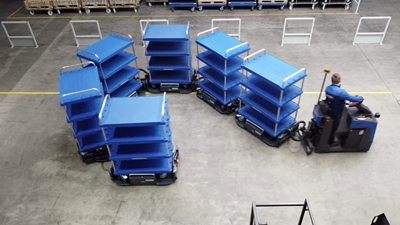 An exclusive partnership between The Raymond Corporation and K.Hartwall of Finland will expand product offerings at Carolina Handling, adding tow-trains, carts, foldable cages and more to the Charlotte-based company's intralogistics solutions.
The most innovative, compact tugger train on the market, the K.Hartwall LiftLiner® is designed to streamline logistics and improve safety through a unique combination of speed, optimal length and the ability to load and unload from both sides. K.Hartwall's LiftLiner® tow-train system is compatible with the Raymond® 8610 tow tractor or Raymond CourierTM 3020 and 3320 automated tow tractor models, which combine to provide an agile, compact tow-train solution with a unique patented steering system that offers a tight turn radius and high maneuverability in extremely narrow aisles.
The LiftLiner solution has an ergonomic patented load system that can handle up to 2,000 pounds (1,000 kg) with a three-second lift. Special tilting technology and the ability to load and unload different sized carts from both sides without the need to sequence makes this an operator-friendly, lean logistics solution that helps streamline processes and handling costs.
"Carolina Handling has been helping customers move more, faster and at less cost, for 55 years," said President and CEO Brent Hillabrand. "This exclusive partnership with K.Hartwall is the latest example of our commitment to provide our customers with intralogistics solutions that help drive continuous improvement and address ever-changing industry needs."
To learn more about Carolina Handling material handling equipment and warehouse operations solutions, visit CarolinaHandling.com.
About Carolina Handling
One of the Southeast's leading material handling solution providers, Carolina Handling is celebrating its 55th anniversary in 2021. The company is the exclusive Raymond Solutions and Support Center in the Southeast for North Carolina, South Carolina, Georgia, Alabama and Florida's Central time zone territory. Carolina Handling employs over 600 associates at centers in Atlanta, GA; Birmingham, AL; Charlotte, Greensboro and Raleigh, NC; and Greenville, SC. It also operates an equipment distribution center in Piedmont, SC.
About K. Hartwall
K.Hartwall is a family-owned company founded 90 years ago in Söderkulla, Finland. The company creates logistics efficiency by delivering innovative solutions, including returnable load carriers, tow-trains, and autonomous mobile robots. Serving customers on all five continents and in more than 65 countries, K.Hartwall strives to create future-fit logistics solutions that meet the needs of our customers and bolster development in their industries. Over the years, K.Hartwall has specialized in smart logistics solutions for the retail, postal and parcel and automotive industries. The company has 250 employees.