Carolina Handling Receives MHEDA MVP Award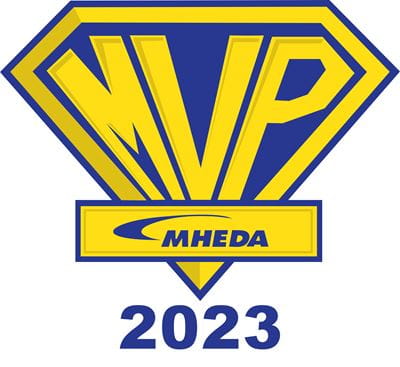 CHARLOTTE, NC (January 23, 2023) – Carolina Handling has received the 2023 MVP (Most Valuable Partner) Award from the Material Handling Equipment Distributors Association (MHEDA) for its contributions to the industry, its customers, supplier partners and associates.
For the third year in a row, Carolina Handling has been recognized by the industry trade association for its excellence in customer service, supplier relationships, associate training and community involvement. Award recipients must satisfy a rigorous set of criteria with less than 10 percent of MHEDA's nearly 600 members earning the award.
"The MVP Award recognizes the best-of-the-best in our industry and is displayed with honor," said 2023 MHEDA Chairman John L. Gelsimino, President of All Lift Service Co. Inc. in Willoughby, Ohio. "We appreciate the dedication to MHEDA and to being a leader in this great industry that we are so blessed to be in."
To qualify for the annual MVP Award, companies are required to provide evidence of their commitment to their partners in business including their employees, customers and suppliers. They must satisfy criteria in the following important areas: Industry Advocacy; Customer Service & Safety Practices; Business Networking; Continuing Education; and Business Best Practices.
"The MHEDA MVP Award is a testament to Carolina Handling's commitment to continuous improvement and innovative solutions, and to our culture of caring for each other, our customers and the communities where we work and live," said Carolina Handling President & CEO Brent Hillabrand.
In recommending Carolina Handling for the MVP award, Chris Reed of Daifuku Wynright wrote, "Carolina Handing provides an exemplary level of customer service, attention to detail and a commitment to 'do the right thing.' We are impressed with the growth Carolina Handling has shown and look forward to working and growing with them in the years to come."
ABOUT CAROLINA HANDLING
Founded in 1966, Carolina Handling is one of the Southeast's leading material handling solution providers and the exclusive Raymond Solutions and Support Center for North Carolina, South Carolina, Georgia, Alabama and Florida's Central time zone territory. The company provides lift trucks and automation solutions for warehouses and distribution centers, as well as parts, racking, storage, lighting and dock and door equipment.
Headquartered in Charlotte, NC, Carolina Handling operates branch offices in Atlanta, GA, Birmingham, AL, Greensboro, NC, Raleigh, NC and Greenville SC, and an Equipment Distribution Center in Piedmont, SC. The company has more than 700 associates. For more information, visit www.carolinahandling.com.