Carolina Handling Releases "Santa's Legendary Solutions," Third in a Series of Children's Books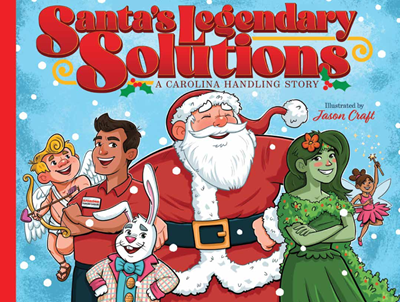 What would happen if the Easter Bunny, Cupid, Jack Frost and other members of the Council of Legendary Figures suddenly began losing their powers? Find the answer in "Santa's Legendary Solutions," the third and final release in a series of children's holiday books published by Carolina Handling.
In this latest book by Carolina Handling, the legendary creatures call a secret meeting with Santa Claus when they realize their magic is disappearing in a fast-paced, ever-changing world where children grow up too fast. The problem-solving ensues when Santa recommends calling Carolina Handling, the company that optimized his North Pole operations and saved Christmas in last year's Santa's Automated Workshop.
Written by Carolina Handling's Marketing department and illustrated by Jason Craft, Santa's Legendary Solutions highlights Carolina Handling's capabilities as a systems integrator and a provider of automation solutions such as conveyor and sortation, automated guided vehicles (AGVs), automated storage and retrieval systems, and Raymond Corporation's industry exclusive iWAREHOUSE telematics.
"Carolina Handling's holiday book series is novel way of raising awareness about the products and services we offer and their relevance for today's marketplace," said Carolina Handling Director of Marketing Donna Waldrep.
It also sets Carolina Handling apart from the competition, she said. "This type of marketing is unique in the material handling industry. It sets us apart, accelerates our brand building and helps us tell our story in an engaging way."
In addition to the softcover book, a coloring book version of Santa's Legendary Solutions also has been produced. A flipbook version is available online at solutionsforsanta.com, along with If Santa Had a Lift Truck released in 2021 and Santa's Automated Solutions released in 2022.
ABOUT CAROLINA HANDLING
Founded in 1966, Carolina Handling is one of the Southeast's leading material handling solution providers and the exclusive Raymond Solutions and Support Center for North Carolina, South Carolina, Georgia, Alabama and Florida's Central time zone territory. The company provides lift trucks and automation solutions for warehouses and distribution centers, as well as parts, racking, storage, lighting and dock and door equipment.
In addition to its Charlotte, NC headquarters, Carolina Handling operates branch offices in Atlanta GA, Birmingham AL, Greensboro NC, Raleigh NC and Greenville SC, and an Equipment Distribution Center in Piedmont, SC. The company has more than 750 associates. For more information, visit carolinahandling.com.