Warehousing Without the Ups and Downs

Low level order picking continues to set the standard for efficiency and productivity in warehousing and distribution by allowing you to avoid time spent lifting and lowering necessary in high level storage applications.

By simply giving operators access to 2nd level slots, you can also:
+ Access more SKUs
+ Enhance productivity
+ Improve picking accuracy
+ Increase profitability

Strength and Performance Like No Other

Low level picking applications can take a toll on any forklift. In today's harsh and challenging warehouse environments, reliability requires durability.

Engineered to excel, Raymond forklifts are the only 2nd level order pickers in the industry specifically designed to withstand the rigors of North American markets while also being the only truck to offer 8,000 lb. capacity with triple length forks.

From innovative technologies to superior materials and components, we put more into every lift truck so you can get more out of them.
More Efficient Picking
The Raymond 8410 End Rider Pallet Jack with 2nd level pick steps offers a cost-effective alternative to hydraulic lift order pickers. Ideal for operations with occasional low level order picking needs, this pallet truck features a set of three pyramid steps—accessible from either side—leading to a top-level platform offering picking heights to 44" for easy access to the second beam.

For operations requiring more frequent trips to the second level, Raymond offers the 8720 center rider pallet jack with a hydraulic elevated operator platform. The 8720 Second Level Order Picker features an industry-leading 47" lift height, allowing easy access to load beams up to 100". Simultaneous travel and lift/lower and an enlarged pick window save time and increase productivity.

Raymond's exclusive Pick2Pallet LED Light System option reduces picking errors for enhanced profitability and customer satisfaction. LED lights under the A, B or C pallet position are illuminated to guide correct product placement.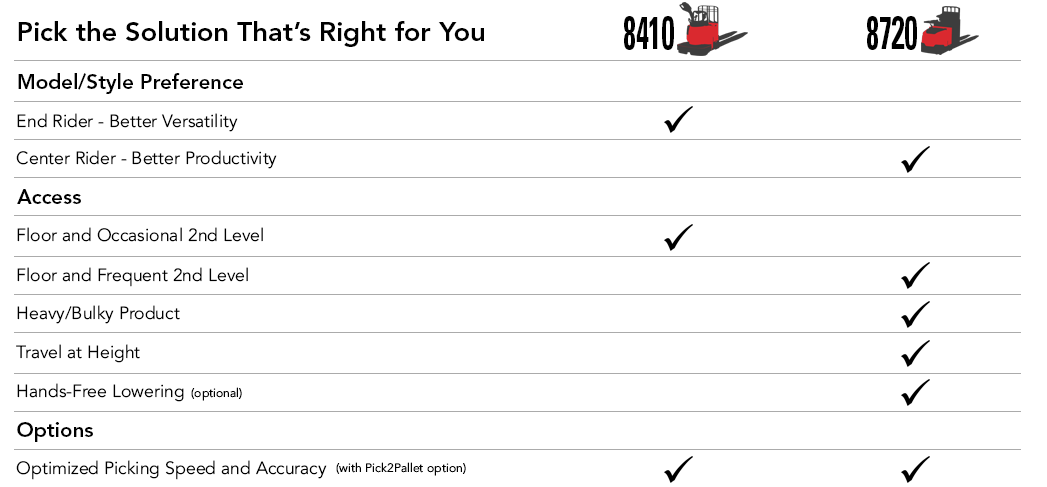 Stronger
Top to Bottom
From the exclusive 4-point enhanced stability design featuring an offset drive unit with heavy-duty caster, to the ductile iron undercarriage and durable fork frame, this rugged design increases operator confidence at height.
Comfort
Start to Finish
The industry's most spacious operator compartments, ergonomic controls, and easily accessible storage options ensure a more comfortable and convenient operator experience throughout a shift for superior productivity.
Performance
End to End
Simpler handling and more efficient operation come from a proprietary ACR System, offering smoother, quicker acceleration, and a unique PowerSteer feature that delivers greater maneuverability.
Reliability
Year to Year
Engineered with only the toughest, most durable components available—with corrosion-resistant stainless steel undercarriage pins, composite bushings and IP65-protected electronics for utmost reliability and long-lasting performance.
Please fix the following errors and resubmit.